Digital marketing has paved the way to target audiences more effectively, in live time. This is because unlike traditional marketing, digital is completely flexible, measurable, and the exact opposite of generalized. You can actually gear the message to each individual and what they're explicitly searching for, thus allowing us to correlate with very specific pain points and offer concentrated solutions in return. That's one of the things that makes digital so powerful and successful!
In the case of Lemme Audiology, our digital marketing efforts helped to increase patient volume, amplify brand awareness within the community, and enhance Lemme's overall marketing ROI. But this didn't just happen overnight – we had to take several strategic, methodical steps to get there…
Marketing Consultation

Strategic Planning

Website Design & Development

SEO Implementation

Content Strategy & Development

Digital Marketing Concepting & Management

Social Media Strategy

Marketing Campaign Optimization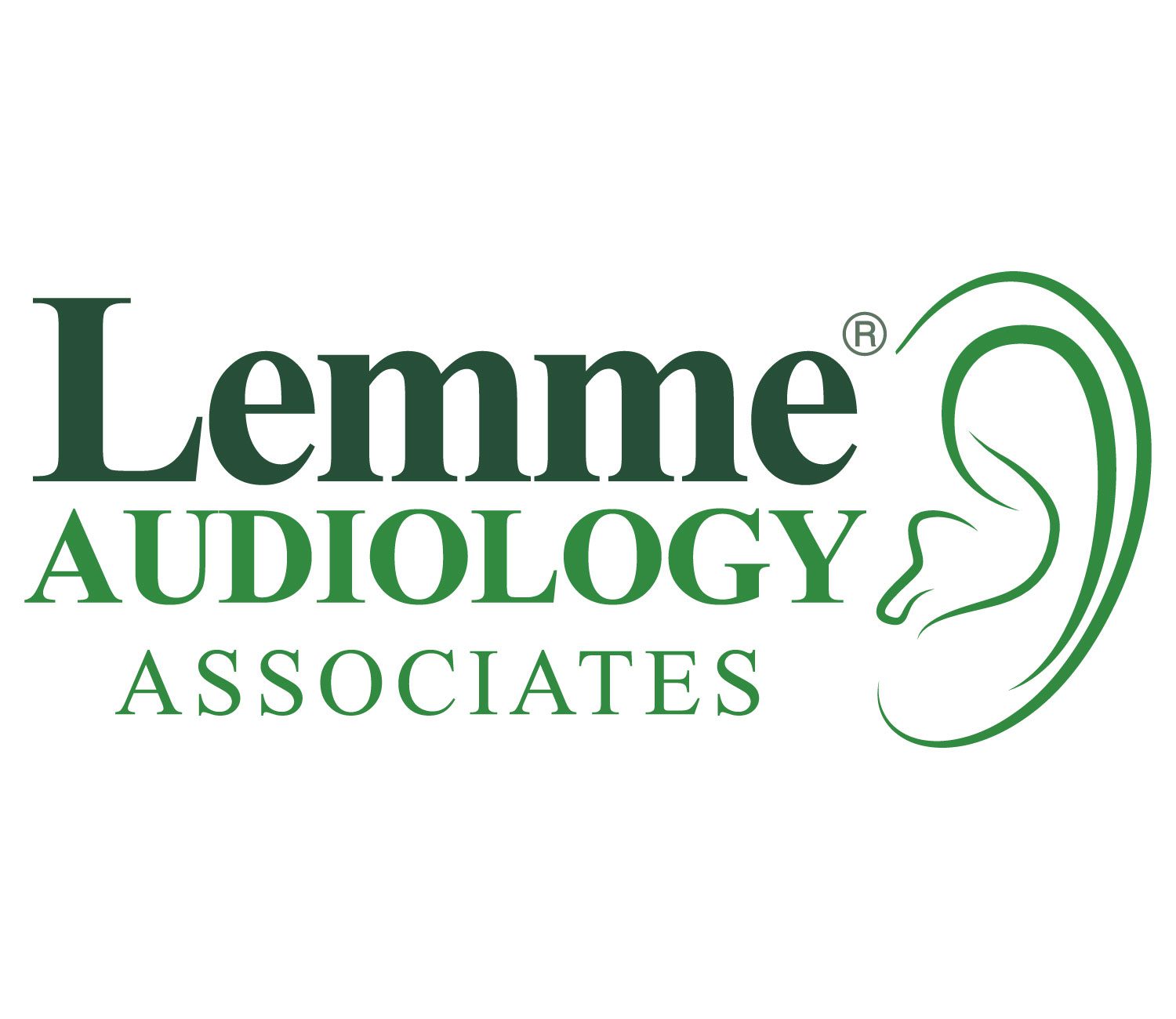 Lemme Audiology's Specific Challenges and Pain Points:
Website was not user friendly or easy to navigate. We wanted to enhance the user experience so that their website could become more of a resource to users.

SEO was non-existent, making Lemme Audiology hard to find online.

Their existing marketing toolset was not generating good leads and they weren't naturally generating prospective clients.

They wanted to increase patient volume and reach more new people by expanding their market share/reach.
DiAndrea Media's Solutions Summary:
We rebuilt Lemme Audiology's existing website to enhance the user experience and make their website a more effective, beneficial marketing tool for them.
We implemented a comprehensive, best practice SEO (search engine optimization) program. They weren't being found easily online and we knew this would fix that!
Our team improved Lemme Audiology's existing toolset (specifically Facebook Ads and Google Ads) to be more effective, more narrowly targeted, and work alongside existing paid marketing in order to generate more leads and increase traffic to their website.
After extensive research and analysis, we added some retargeting and digital display ad marketing into the mix to target ideal customers based on their own individual pain points (i.e., tinnitus) and increase both appointment and patient volume.
How We Got There – The Process: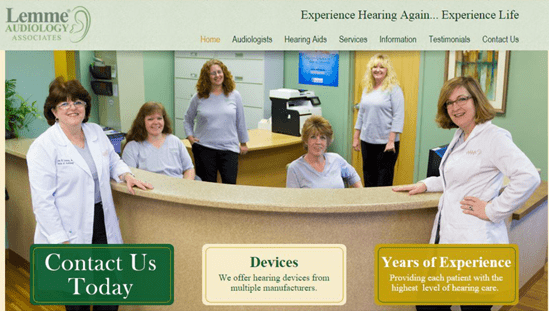 Lemme Audiology's Old Website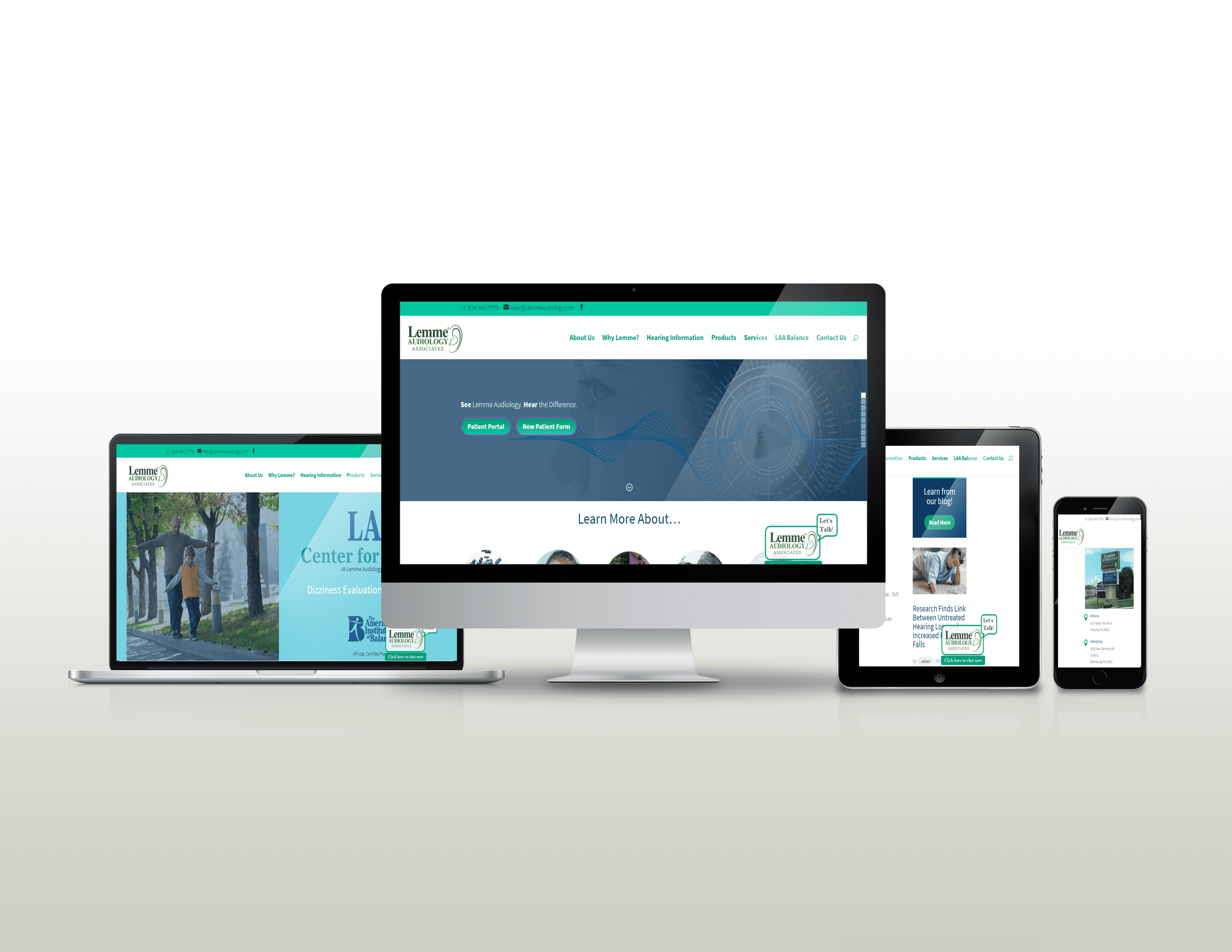 Lemme Audiology's New, Improved Website
Problem and Solution #1: Improve User Experience
We determined that there were four main issues when it came to Lemme Audiology's old website –
The user experience was bad.
It wasn't performing to generate quality leads/new patients.
It was built on an old version of Drupal.
It was hard to find on search engines.
Recognizing the issues above, the need for a compete website facelift became obvious, followed by a thorough SEO effort.
For starters, we knew that Drupal architecture platform was not in their best interest (based on today's standard). Even though Drupal was (and still is) an excellent operating platform, their website was built on an old version of it that wasn't updated or well maintained. This made implementing SEO and changing any design elements nearly impossible to do. That's why we decided to migrate the Lemme Audiology website over to a modernized version of WordPress (another architecture platform) that was both simpler for the client to use and possible for us to update on a consistent basis.
The Lemme Audiology website also needed a total redesign in terms of appearance – it was too old looking, not user friendly for visitors, and didn't convey their services well. A website should always be a representation of who you are as a company and reflect your brand personality! This is why a redesign was needed to better communicate Lemme Audiology's services, express their identity, and make it easier for people to call or connect. It needed to be a resource!
To create a more effective and user-friendly experience, DiAndrea Media worked alongside the client to determine the new website theme, colors, pages, content, features, and functionalities – all geared towards enhancing the overall user experience.
Problem and Solution #2: SEO Implementation
Once the new and improved site was up and running, DM performed onsite optimizations and keyword research, identifying the appropriate keywords to use in online content that would best attract their ideal audience.
Next, we improved the website to align with a full SEO (search engine optimization) effort, using best practices such as optimizing web page title tags, descriptions, image alt tags, and implementing schema markup (it's amazing how taking the time to do these little things- and do them right- can drastically improve search engine rankings).
Within a few short weeks, Lemme Audiology climbed from search results on the bottom of page #3 to the first and second result on page #1 for 238 designated keywords!
*chart depicting SEO organic keyword ranking growth*
*SEO effort was completed in April 2020*
Problem and Solution #3: Improve Existing Toolset
DiAndrea Media also performed an extensive evaluation of Lemme Audiology's existing marketing efforts and mined data using Google Analytics and other tools to effectively pinpoint areas of opportunity. Our goal was to ensure that marketing dollars were being dedicated to the right places, strategically, to attract a higher return on investment.
Using analytic data, we implemented the following "tracking points" on Lemme Audiology's website in order to connect with qualified leads/existing customers more effectively.
Implemented tracking points:
Click to call
Email click-throughs
Directions requests
Analytic data can tell an entire story with the numbers, and it's our job as marketers to piece that story together. Our efforts of data mining and implementing "tracking points" allowed us to take a close look at specific consumer behavior. What was driving these consumers to Lemme Audiology's website? Once they got there, what were they most interested in and why? How often was a website user taking the next step to contact Lemme Audiology directly and what got them to that point?
These were just a few of the many questions we needed an answer for, and the data gave us the insight needed to determine what those answers were and why.
Using this information, we then made strategic adjustments to optimize their existing digital marketing efforts to enhance performance and drive results. Some of these adjustments included adding income and additional demographic targeting, revising Google Ad copy and keywords, implementing ad extensions such as click-to-call, and using more detailed targeting settings on Facebook ads.
We also began utilizing Facebook ads focused on lead capture to help bring in new patients and fill up the Au.D. schedules by generating more quality leads.
But wait, there's more!
Problem and Solution #4: Increasing Patient Volume & Amount of Qualified Leads
Redesigning the website, mining its data, and implementing SEO were only a few slices of the pie.
After revamping and optimizing their existing digital marketing efforts, we saw a significant opportunity to add some new digital tools in the mix to further increase their patient volume and appointments.
While they've had PPC (Google Ads) in place for the past few years, we knew that their digital presence needed to expand beyond search engine text ads. We needed to go visual. That's when we implemented highly targeted search and site remarketing (display) campaigns split into three different categories: tinnitus, hearing loss, and reducing risks (like heart disease and dementia). These display ads are tied to specific search words and are served up after a user searches for solutions to their specific problems.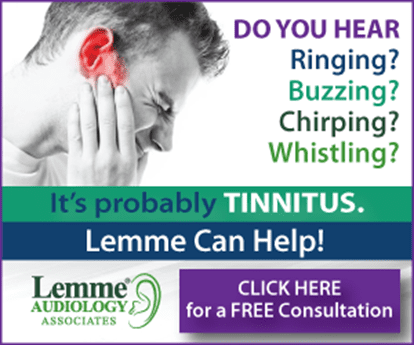 *Example of Tinnitus Display Ad*
The Results?
DiAndrea Media helped prospective patients see Lemme Audiology and hear the difference.
Our efforts led to a remarkable increase in website traffic – 3070.49% to be exact! (461 average monthly website visitors to 14,116).
DiAndrea Media also delivered:
increase in patient volume
increase in response volume (calls and online appointments)
Find out how we can put solutions
like these to work for you.